Ahhh, once again I get to play with post-its!! This is compliments of
SupahMommy
who I'm starting to truly admire!! You should check out her blog and I promise you won't come away without a damn good laugh!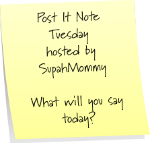 And if you want to make your own stickies, then go
here
and have a great time!!
So, the tween is my eldest and I must say she is very intelligent. She is compassionate, loving, giving but still….a TWEEN!! The following stickies are some of the the daily
moments where I would like to beat the living crap out of her
trials we go through. If you have a TWEEN, I am sure you can relate!!
And it goes on, and on, and ON…..Sometimes it amazes me what she comes up with…because
for Pete's sake, I did not raise her that way!!
Lately I've been out of sorts, working hard yet playing hard. If you wanna experience some hysterical-I-can't-catch-my-breath laughter, check out the sites that have been occupying my time:
and…….
And of course, I need to give a special thanks to my new bloggie friend who has brought some sparkle into my bloggie world and made me do a belly laugh, or two…..
Thank you all for stopping by, and I swear, if you don't try out some stickies, your life will not be complete!!